Thanks to (……..) I raised my LSAT score from a 152 to a 173!
From 150 to 174!
(……..) is my hero! I started at a 146 and I got a 172!
If you have started researching study aids for the LSAT you have probably been bombarded by advertisements similar to this. If you have not seen these ads yet, don't worry you will. There are a ton of LSAT prep companies, and a variety of live and online courses available. One thing remains the same, and that is they all cost a pretty penny and they make these often ridiculous "near" representations.
Kaplan, Powerscore, Testmax, The Princeton Review and Manhattan Prep are just a few courses I can name off the top of my head. They all advertise testimonials of enormous rises in LSAT scores, and they all tell you that their course is the very best. For a student looking to perform as well as possible on the LSAT and with so many choices it can be tough to filter out all the noise and make a decision whether to self-study, take a course, or do a combination of both.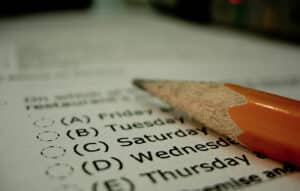 Can you really raise your score that much?
First off I don't care how well a Harvard law student did on the LSAT when he sat down to take the actual exam. The first time he took a practice exam he more than likely scored no greater than a 155. No one starts off scoring a 170 on the LSAT, it takes months of dedicated study time and practice. LSAT Courses pretty much compress the material and help you avoid pitfalls in your learning. Is it possible to raise your initial practice exam score from a 150 to a 170+? Of course it's possible, but it's certainly not probable. A 170 is approximately at the 97.4 percentile, and you would need to score 86 out of 101 questions correctly to obtain this score. Scores that high are rare, the AVERAGE LSAT score overall is approximately a 150.
Obtaining a score this high is obviously very difficult, and the testimonials that many of these companies advertise are the exception not the rule. A much more typical rise from a prep course would be 5 – 10 points. Does that mean though that just because it's unlikely you will get a meteoric 20 point rise in your score that LSAT courses aren't worth it? Of course not!
Self-Study or Take A Course?
Student's preparing for the LSAT examination take one of two roads, either they elect to take a course, whether that be online or live in person or they focus on self-study, and purchase prep materials such as the LSAT Bibles. You can check out an in-depth comparison of various LSAT prep books here.
Deciding on which to choose should be based on your own personal study preference. Forget the cost of a course for a minute and consider what kind of student you are. Do you typically procrastinate until the last few days or can you set a study schedule? More importantly, if you set a study schedule can you stick to it? Another consideration is whether you feel that you learn better from someone showing you how to do something/guiding you. Most people learn significantly faster from a teacher than if they are left to learn on their own.
I understand that the cost of these courses can seem daunting at first, but if taking a course will help you stay on track in your studies and improve your score a couple points than that $1500 probably just got you into a better school and/or better merit based scholarships.
My Experience
When I first began prepping for the LSAT I asked current students and attorneys if they had an opinion on what study materials were worth buying. Every single law student I talked to had taken a course and highly recommended it. I researched various courses, forums and articles to decide on what course I wanted to go with. I found that Testmasters and LSATmax had a lot of good feedback in the forums, whereas Kaplan and Princeton Review typically received a lot of really bad feedback.
I am sure that some of the feedback for the various courses can be attributed to personal learning style, and some students not putting in the work throughout the course and fairing poorly on the real exam would probably be tempted to direct the blame outwardly at the course. Overall however, the Testmasters and LSATmax courses received much better reviews than the other guys.
I ended up siding with Testmasters and I took the online course for like $900 (I think). I could have spent more to take an in-person course, but I felt that I could dedicate plenty of time to studying at home. I must say that I was impressed with the quality of instruction, I certainly feel that the course helped me understand the LSAT and the millions of different types of questions in the Logical Reasoning section to a much higher degree.
It also helped tremendously with the Logic Games. When I took my first practice exam I missed a ton of logic game questions, as it was my first time ever seeing an advanced logic game. By the end of the course I was only missing one or two questions a section. To be fair though, the logic games section is usually the one new test takers get must tripped up on initially and then improve the most.
I took the LSAT twice, my first LSAT was in December, right after I took the Testmasters course, and I received a 164. Which is a pretty good score in the 90th percentile. I had brought it up from my initial practice exam score, which was a 150. I feel like the online Testmasters course helped me considerably, especially when keeping in mind that I really only studied for about a month, maybe a month and a half.
The Self Study Option
There are a lot of excellent LSAT self-study materials out there right now. I felt like I could do better after my December LSAT score came in so I decided to take it again in February. This time I stuck to self-studying and researched the best materials available for the LSAT. The most consistently good reviews I found were for the LSAT Bibles, especially the one for the Logic Games. I purchased the two for the Logic Games and the Logical Reasoning Sections, and I must say they truly were excellent. Each one was extremely dense, and well worth the $50 a copy I paid for them.
Preparation courses are by no means a necessary prerequisite for an excellent score on the LSAT. There are plenty of people every year that succeed on the LSAT through self-studying and taking advantage of the numerous prep-books available.
If you were a student in school who could go home and dedicate the necessary hours to homework and preparation for class, than self-studying is a good option.
The PowerScore LSAT Bible Trilogy
David M. Killoran (Author)
English (Publication Language)
2006 Pages - 09/27/2021 (Publication Date) - PowerScore Publishing (Publisher)
Things to Keep In Mind with Taking a Course
Prep Courses Don't Make it Easy
I must caution you that purchasing an LSAT prep course will not make it any easier to study. Learning how to breakdown logic games and make inferences with arguments is a process, and your brain is going to hurt, A LOT. What they can do is speed up the rate that you learn, and help you focus on the right strategies.
You Have to Put in the Work No Matter How You Study
Let's say you spend $1,500 bucks to take an in-person LSAT prep course. If you just show up for class, put your couple of hours a week in and don't study you're A$$ off outside of class your score is not going to move up very much. Classes are meant to help you focus and learnt the material quicker, not serve as a substitute to long hours of study.
Some Courses Suck & Some Are Great
Put in a few hours of research to ensure that you have found a good course. I have read plenty of stories of really bad LSAT teachers. All of these companies are for-profit, and some of them seem to put profit over quality.
Khan Academy LSAT Prep!!!!
I have been a big fan of Khan Academy for years, I absolutely love their YouTube Channel. They announced in 2017 that they were going to begin offering in 2018 free LSAT prep. Unfortunately they did not have it up when I was studying for the LSAT, but at this point they have a ton of videos up for LSAT prep. They are a free resource and any LSAT taker should definitely check out their videos.
Conclusion
Taking an LSAT prep course is an expensive decision, well not all that expensive when you think about how much law school will cost. Courses can be a very helpful tool though, and help you prepare for probably the toughest exam you have ever taken. The difficulty with choosing a course is that they are not all created equal. The quality and cost varies, that's why it is so important to research out reviews and ask current law students how they prepped for the LSAT.
At the end of the day I am glad that I took an LSAT prep course, if you decide to take one and research it out first you will be glad you took one as well!