The LSAT stands as a pivotal milestone in your journey to a law career. Ensuring thorough preparation can be the distinguishing factor between scores, potentially elevating you from a 155 to a 165. However, with a myriad of LSAT prep books available, discerning quality can be overwhelming.
Dive into our curated guide to discover the best LSAT prep books of 2023 and gain insights on how to choose the right one for your study needs.
1) The Powerscore LSAT Bible Trilogy
The PowerScore LSAT Bible Series is an outstanding series of LSAT prep books that have long been a favorite for LSAT test-takers. The Series is divided into three books – (i) Logic Games, (ii) Logical Reasoning, and (iii) Reading Comprehension. The fact that they are divided gives the student some flexibility in regards to what area you really need to focus on. You can purchase just one or two, or buy all three as a package.
The Powerscore Bibles are a more expensive option than the LSAT Trainer, but in my opinion they are well worth it. The Powerscore Bibles are this author's choice for best LSAT prep books and I used them extensively during my own LSAT preparation. The Bibles are extremely detailed, in fact, one critique is that they can be overly thorough and distract the reader from what is really important on the LSAT exam. The Reading Comprehension Powerscore Bible alone is over 600 pages.
What reviewers love about the Bibles is not only are they packed with real LSAT questions, but the explanations are thorough and provide helpful breakdowns for why you missed a question. The LSAT Bibles comes with 12 official LSAT Reading Comprehension passages, 100 official LSAT Logical Reasoning questions, and 28 official LSAT Logic Games.
If you decide to purchase only one of the LSAT Bibles, our recommendation is that you buy the Logic Games Bible. This book is well regarded as the best logic games study guide in the industry. The book effectively breaks down the games and develops students time management skills.
You can find a more detailed analysis of what to expect in the PowerScore Bibles here.
Extremely thorough and detailed breakdown of all three LSAT sections.

The best Logic Games preparation hands down. 

The books can be purchased seperately.

Lots of Official LSAT questions, complete with detailed explanations.

The Logical Reasoning Section is broken down by types of questions. 

Unneccessary detail in some places.

Slightly more expensive than many other options.
My Experience
When I initially set out on my LSAT journey, I opted for an online course to guide my studies. While it did offer valuable insights, I felt that there was more I could harness to boost my score. Upon retaking the LSAT, I decided to invest in all three of the PowerScore LSAT Bibles, and it was genuinely one of the best decisions I made in my preparation journey.
The PowerScore Bibles were nothing short of phenomenal. The wealth of information and practice tests embedded within these books is so extensive that I'd reckon most LSAT takers might not even utilize them to their fullest potential. I myself couldn't traverse through every single page, given their meticulous detailing. However, it was this very comprehensive nature of the Bibles that allowed me to understand the depth and breadth of the LSAT in ways I hadn't before.
Using the PowerScore Bibles as my primary resource the second time around, I witnessed a significant boost in my LSAT score. The detailed breakdowns, actual LSAT questions, and the nuanced explanations equipped me to tackle the test more efficiently. I especially appreciated the flexibility offered by the trilogy format. Being able to dive deep into specific areas like Logic Games and Logical Reasoning provided a more tailored approach to my study sessions.
2) The LSAT Trainer: A Remarkable Self-Study Guide For The Self-Driven Student
The LSAT Trainer has been out for a long time and has long been one of the most popular resources for students studying for the LSAT. I found Mike Kim's book to be an extremely useful and inexpensive aid in my LSAT studies.
The LSAT Trainer is packed full of information (it's over 500 pages) and is one of the more inexpensive solutions to LSAT preparation. It also contains a variety of aids for visual learners, such as infographics and logic game breakdowns.
Something else that I found useful about the LSAT Trainer is that it is a complete LSAT prep book. It comprehensively covers the Reading Comprehension, Logical Reasoning, and Logic Games sections. Something else I liked about this book is that it does not immediately drop the student into deep waters on page one. Instead, it steadily builds on concepts and basic drills introduced early on, until eventually you are handling full-length complex logic games and lengthy reading comprehension questions.
One downside is that the LSAT Trainer does not come with any full-length practice exams, but this can be forgiven as you will find that most of the LSAT prep books do not come with prep books. Even though it doesn't contain a full-length practice exam, the book does contain over 200 real LSAT questions and over thirty drills. Finally, the book also offers free access to study schedules and note organizers that the book creator has made.
Full length real LSAT exams. 

Answer explanations are included. 

The best option for full-length exams available on the market. 

The answer explanations lack detail.

The older prepbooks are less analgous to the exam you will take on test day.
3) Manhattan Prep LSAT Strategy Guide Set
The Manhattan Prep LSAT Strategy Guide is another comprehensive guidebook for those studying for the LSAT. This series is also divided up into three books which may be purchased separately.
The books are structured relatively similarly to the PowerScore Bibles in that they begin with simpler drills and explanations, and gradually become more complex as you complete the book.
The LSAT logic games book is not nearly as built out as the PowerScore Bibles, although they do have their usefulness if you find that you prefer the breakdown and structure of the other two books.
Reviewers have also complained that the strategy guide set has a lot of typos, a few typos from time to time may be forgiven in a 1,000 page prep book, but typos throughout the book is certainly an annoyance.
The cost of these books (at the time of this writing) comes in at less than the Powerscore Bibles, for around $100 brand new these books offer a good value for the price.
Packed with Real LSAT practice questions.

A slightly less expensive option.

The books can be purchased seperately.

The Logic Games book is not as useful as the PowerScore Bibles.

Complaints about lots of typos.
4) 10 Actual, Official LSAT PrepTests Volume VI
The Official LSAT PrepTests are an absolute must for anyone studying for the LSAT. These books are published periodically by the Law School Admission Council. There is no preparation quite like taking real, past exams, and this book is precisely that.
Taking these practice exams throughout your LSAT preparation is a useful tool in tracking your progression. It will also help you develop a sense and strategy of time management, and outline what sections and questions are giving you difficulty. This is not a substitute for the comprehensive guides outlined in this article, but it is a great tool.
The book also contains answer explanations, however, most students will find the included explanations to be lacking in detail. The comprehensive LSAT guides will give you more detailed explanations of questions that you find in this pre book.
You can find a strategy for how frequently you should take practice exams here. Students should aim to take full length practice exams once a week in the early stages of studying, and later on, closer to the exam students should aim to take 2-3 practice exams weekly.
Full length real LSAT exams. 

Answer explanations are included. 

The best option for full-length exams available on the market. 

The answer explanations lack detail.

The older prepbooks are less analgous to the exam you will take on test day.
5) 5 lb. Book of LSAT Practice Drills
This Manhattan prep book is an outstandingly useful practice question drill book for any student who is looking for a lot of practice questions in a single place. The book is a gargantuan 1,000 pages and it contains an enormous amount of practice questions, over 5,000. You simply will not find another prep book with so many practice questions and it is highly doubtful that you will get anywhere near completing the entire book.
The book is divided up into Logical Reasoning, Reading Comprehension, and Logic Games sections. It focuses on building up your understanding of the LSAT from the ground up. It achieves this by starting off with a number of drills designed to get the reader acclimated to the LSAT's style of questioning and then focusing on practice questions. The book also includes answer explanations for some of the questions (but not all) that you complete.
The book is also inexpensive, priced at less than $30! It also includes review guides, planning resources, and downloadable flash cards. This is one of the best bang for your buck books available in the LSAT prep space.
The downside of this book is that the book does not make use of real practice questions. This is a huge con for students who are looking to focus their time and effort on practice questions that have actually been used in real LSATs. Manhattan may be able to get their practice questions close to the real ones used in the LSAT, but with so many other LSAT prep books offering real practice questions this is a real downside.
Lastly, the book really is five pounds and can be slightly cumbersome to carry around in your backpack or satchel.
Over 5,000 drills and practice questions.

Answer explanations are included for some questions.

Includes review guides, planning resources, and flash cards.

Does not use real LSAT questions.

Slightly cumbersome due to its size.

Answer explanations are not included for every question.
6) LSAT Prep Plus 2023: Strategies for Every Section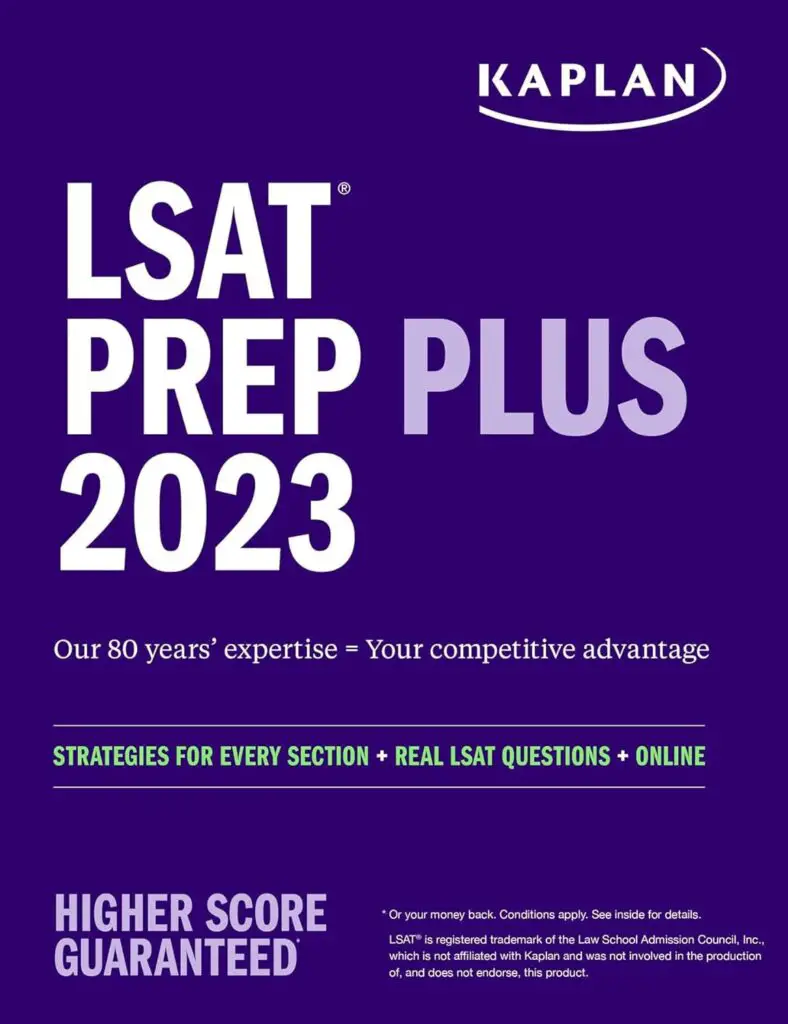 Kaplan has long been one of the leaders in the LSAT prep industry. Kaplan regularly updates their books with new questions and explanations, and this prep book is a comprehensive guide for LSAT preparation.
The 2022 updated edition is up-to-date with LSAC's move to a digital LSAT. It includes online workshops, video instructions, and test-taking strategies. The book also contains hundreds of official LSAT practice questions and a practice exam. The practice exam is online, and Kaplan will analyze your test score by section and question type so you can have a clearer understanding of what you need to work on. The book also comes with a money back guarantee.
The book is also relatively inexpensive, coming in at around $40.00.
Kaplan's prep course has suffered from a lot of mixed reviews over the years (kept me from trying it) and this book is not the most popular among students. That being said, there are a lot of useful extras that come with this book and it does include a lot of actual LSAT practice questions.
Lots of extras - online workshops, video instruction, and test-taking strategies.

Up-to-date to the digital LSAT.

Online practice exam with analysis.

The Kaplan Prep Course's method is poorly reviewed.

May feel redundant for more advanced LSAT students.
How to Choose An LSAT Prep Book?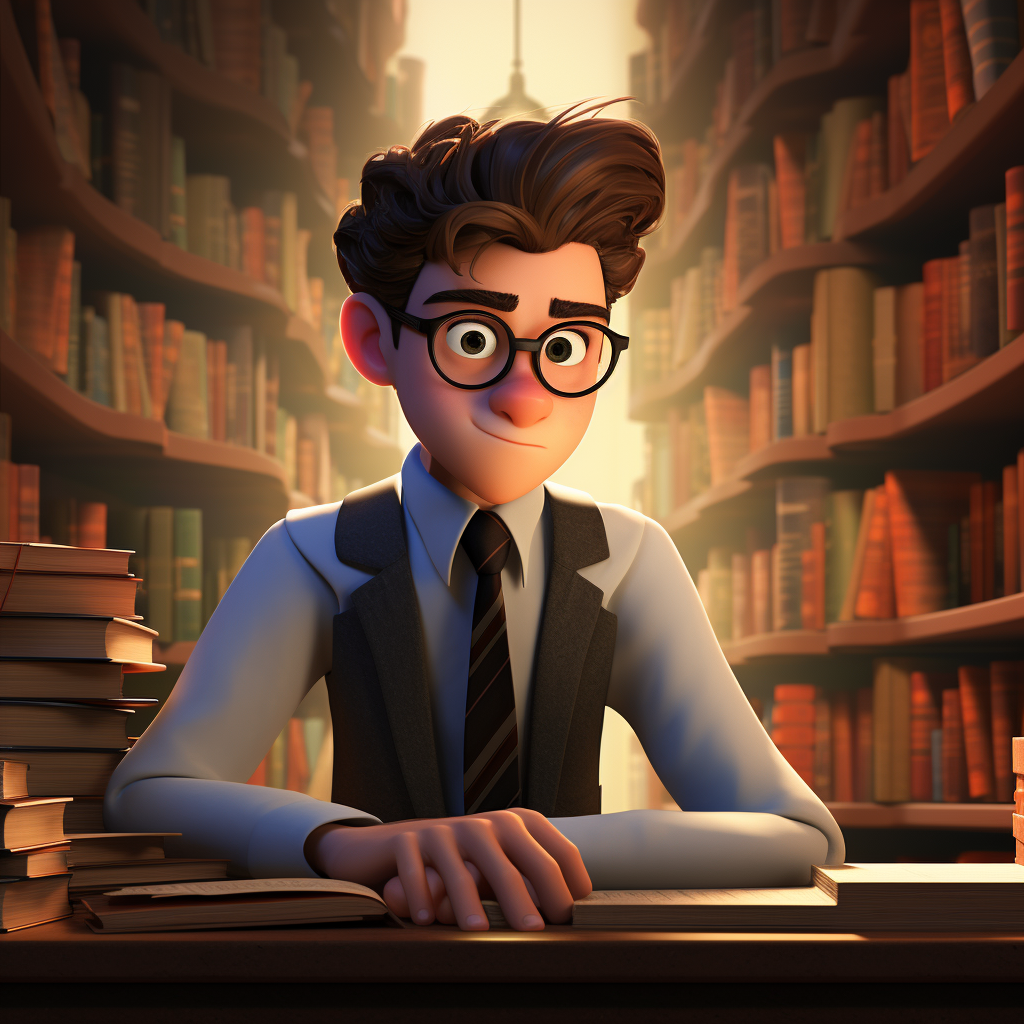 There are so many options available for students studying for the LSAT. Many of the comprehensive books are structured similarly, so it can be difficult for someone to separate the wheat from the chaff. Making the right decision in selecting a prep book requires consideration of a few components.
Is the Prep Book Comprehensive?
Not every LSAT prep book can be termed "comprehensive". Many prep books may discuss every section of the LSAT but if a prep book does one section poorly then you will need to consider purchasing another prep book for that section. Many LSAT prep books do one or two sections well, but miss on third section. The logic games section is the most commonly poorly done section so it is important to closely scrutinize reviews of logic game sections.
Is the Prep Book Up-to-Date?
Since 2019 the LSAT has shifted online and it appears that this will be the new standard going forward. Since 2021, the LSAT has also shifted to a four-section exam with three scored sections. Previously, the LSAT was five sections with four scored sections. Has your prep book been updated to reflect changes in the LSAT? The transition to an online platform is a major development, and LSAT prep materials should respond by offering online practice exams with detailed analytics reviewing your answers.
Does the Book Use Actual LSAT Practice Questions?
Real LSAT practice questions are an extremely important part of your preparation. You don't want to be stiffed by a prep book that only offers questions developed by a third party. Simulated LSAT questions can be useful but they are hit and miss depending on how well the writer is able to mimic real LSAT-style questions. There are so many prep books now offering mostly, if not all, real LSAT questions that there is no reason why you should feel you have to pick up a book that relies exclusively on third party simulated questions.
Additional Resources for LSAT Preparation
In addition to the top LSAT prep books, there are several other resources that can complement your studies and further enhance your preparation. Below are some of the best supplementary tools and platforms available:
LSAC's Official Website: The Law School Admission Council (LSAC) offers a range of free resources, including sample questions, practice tests, and more. Familiarize yourself with the official site to get firsthand information about the LSAT and its components.
Khan Academy's Free LSAT Prep: In partnership with LSAC, Khan Academy offers a personalized and completely free LSAT preparation course. It provides interactive lessons, timed tests, and valuable strategies.
LSAT Discussion Forums: Platforms like Reddit's r/LSAT and Top Law Schools Forum have active LSAT discussion boards where you can share strategies, ask questions, and learn from the experiences of past test-takers.
7Sage LSAT Prep: This platform offers video explanations for virtually every LSAT question, digital LSAT practice, and a community forum. While they offer premium courses, there are also numerous free resources available.
Podcasts: There are several LSAT-focused podcasts that offer tips, news, and strategies. Examples include "The Thinking LSAT Podcast" and "The LSAT Life". They can be a great way to mix up your prep routine, especially during commutes or downtime.
LSAT Flashcards: Apps like Anki and Quizlet have shared LSAT decks created by students that can help reinforce concepts, especially for the Logic Games section. These are especially useful for on-the-go revision.
LSAT YouTube Channels: Many educators and past test-takers share their strategies, breakdowns of difficult questions, and general advice on YouTube. Channels such as "The LSAT Nerd" and "LSAT Unplugged" come highly recommended.
Local Study Groups: Check your university's pre-law society or local community boards for LSAT study groups. Studying in a group can provide motivation, new perspectives, and collaborative problem-solving.
Tutoring: If you're seeking one-on-one instruction, consider hiring an LSAT tutor. They can provide personalized guidance, clarify doubts, and help hone your test-taking strategies.
Mock Test Centers: Some organizations and universities offer mock LSAT days, where you can experience the test under real conditions. This can be invaluable for getting a feel for the actual test day.
Frequently Asked Questions
1. What is the LSAT and why is it important? The LSAT (Law School Admission Test) is a standardized test required for admission into law schools in the U.S., Canada, and other countries. It assesses skills necessary for success in law school, such as reading comprehension, logical reasoning, and critical thinking.
2. How do I choose the best LSAT prep book for me? When choosing an LSAT prep book, consider if it's comprehensive, up-to-date with the current LSAT format, and if it uses actual LSAT practice questions. Reviews and personal study goals should also inform your decision.
3. Are the PowerScore Bibles worth the investment? Many students and reviewers highly recommend the PowerScore Bibles for their detailed explanations and extensive coverage of LSAT topics. However, individual needs vary, so it's essential to assess if they align with your study goals.
4. Do I need multiple LSAT prep books? While one comprehensive book might suffice, many students opt for multiple resources to benefit from varied teaching styles and practice questions. Mixing resources can also address different strengths and weaknesses.
5. How important are real LSAT practice questions in my preparation? Real LSAT practice questions are crucial. They provide an authentic feel of the exam, familiarize you with the style and difficulty of LSAT questions, and can be more indicative of your performance on the actual test.
6. Has the LSAT format changed in recent years? Yes, since 2019, the LSAT transitioned to a digital format. And as of 2021, it has shifted to a four-section exam with three scored sections, compared to the previous five-section format with four scored sections.
7. What are other resources I can use in conjunction with LSAT prep books? Apart from books, consider utilizing the LSAC's official website, Khan Academy's free LSAT prep, LSAT discussion forums, platforms like 7Sage, LSAT-focused podcasts, flashcards, YouTube channels, and local study groups.
8. How often should I take full-length LSAT practice exams? Early in your study phase, aim for once a week. As you approach the test date, increase this frequency to 2-3 times a week to better gauge your readiness and improve time management.
9. Are online resources as effective as traditional LSAT prep books? Both have their merits. Online resources can provide interactivity, video lessons, and digital practice mimicking the current LSAT format. Traditional books offer a tangible study plan and often detailed written explanations. The best approach is often a combination of both.
10. How early should I start preparing for the LSAT? Most experts recommend a study timeline of 2-6 months, depending on how much time you can dedicate each day. Starting early allows for a paced approach and ensures comprehensive coverage of all topics.
Conclusion
Every LSAT prep book listed in this article can be useful in the hands of the right student. Comprehensive LSAT prep books tend to differ mostly in the style of how questions are broken down into explanatory form.
Our recommendation to our readers is that you purchase the PowerScore LSAT Bibles and a copy of the 10 Actual, Official LSAT PrepTests. This is what I personally found to be the best combination during my studies and many other students have came to the same conclusion. The PowerScore Bibles are hands down the best option for anyone struggling with the logic games section, and the PrepTests are simply a must for real practice tests.
Hopefully this article has been helpful as you determine your best path forward for preparing for the LSAT!