A law degree can cost hundreds of thousands of dollars and take years to complete. However, there are some cases where your law degree can potentially be revoked. This revocation can lead to a loss of career opportunities or even force you to change professions. 
Law degree revocation is rare, but can occur under certain conditions such as severe personal or academic misconduct. Law degrees are generally revoked in cases where it is determined that the law student is ethically incapable of practicing law due to poor moral judgment. 
Only a few scenarios can result in your law degree being revoked, but how can you avoid it and what happens if the worst should come to pass? Read on to learn more about law degree revocation and what it means for prospective law graduates. 
When Can a Law Degree Be Revoked?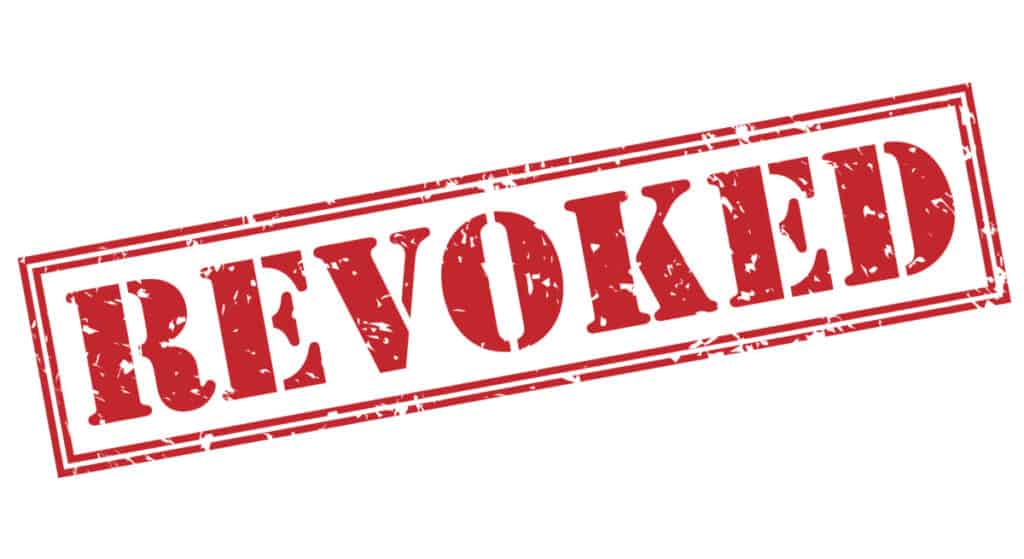 Because of the time and money that goes into studying for a law degree, the decision to have that degree revoked by the university that offered it is not a light one. Revoking any university degree is a complicated process, so only a few conditions call for it. 
Here are the major reasons why a person might have their law degree revoked: 
Academic misconduct: Severe counts of plagiarism, cheating, lying on university admissions, and intellectual property theft can lead to a degree revocation in some cases. If a university decides that it awarded a degree to a student that did not ethically earn that degree, they have the option to revoke it. (Source: Campus Rats)

Personal misconduct: If a law student is determined to have engaged in personal misconduct that reflects poorly on the university, such as sexual misconduct, this may lead to their degree being revoked. This is especially true if the misconduct occurred on the university campus.

Criminal misconduct: In some rare cases, criminal misconduct can potentially lead to a law student having their degree revoked. While there are some famous exceptions of jailhouse lawyers who managed to get their law degree and practice law even with a criminal background, in most cases criminal misconduct is a threat to your law degree.
As you can see, the behavior that typically leads to a law degree revocation has to be extreme. Most cases of minor plagiarism or other minor misconduct issues on campus are typically handled on a lower level and may require some other penalization, but rarely the revocation of an entire law degree. 
Is it Common for Law Degrees to Be Revoked?
Lucky for law students, the revocation of a law degree is very rare. The most common cause of degree revocation is academic misconduct, and it has to be so grievous that punishment by failing grades and loss of credit is not harsh enough.
How to Prevent Your Law Degree From Being Revoked
Other than the severe conditions that have to occur for a law degree to be revoked, the other major reason you don't see it happen very often is that most law students can get through law school just fine without conducting themselves in a way that might lead to them dealing with disclinary action from their college. 
Here are the main ways you can prevent your law degree from being revoked: 
Don't engage in criminal activity. Engaging in criminal activity can lead to a criminal record, which may or may not make you eligible for degree revocation depending on where you go to school. Criminal activity means anything from illegal drugs to theft or fraud.

Don't engage in academic misconduct. Make sure that all papers you write for law school are one hundred percent your own work, and run them through grammar checks and plagiarism checkers such as Grammarly to ensure that you're not accidentally plagiarizing previously written works. Avoid any cheating or fraud in law school.

Don't engage in personal misconduct. Don't air bigoted opinions in public, don't engage in sexual harassment or assault, don't get involved in fights or belligerent drunken behavior. Law schools understand that college students will be college students, but it's important for anyone intending to go into law to be relatively rigid with their morals and conduct. 
For most law students, the biggest temptation for behavior that would potentially revoke their law degree is academic misconduct. The workload presented in law school is high and the pressure is usually even higher. This can lead desperate students to undertake desperate measures to keep their grades up. 
Instead, be sure to keep your studies on the up and up to prevent yourself from having to go before the college board and explain why you cheated. 
Is It Legal for Law Schools to Revoke Degrees?
While the theory doesn't get tested often, the answer is yes: it is legal for law schools to revoke a law degree based on misconduct and other issues that are spelled out in the contractual agreements between the student and the university. 
The reason that law schools are generally agreed to have the power to revoke a degree is that they have the right to grant one. Since they are the authority that is declaring the degree, a court would typically conclude that their right to withdraw the degree is implicit. (Source: Medium)
There is also legal precedence for law schools to have the legal right to revoke a degree. In the case Waliga vs. Board of Trustees of Kent State in 1986, two students challenged Kent State University's right to revoke their degrees based on admissions fraud. 
The challenge to the revocation was ultimately denied, and this case is often cited to justify the legality of degree revocations today. This is not the only case of a law degree revocation being challenged in court. Several cases have set legal precedent for colleges to be able to defend their right to revoke a degree for fraud, plagiarism, and student misconduct. (Source: Plagiarism Today)
Can You Sue a Law School for Revoking Your Degree? 
Students who have their degrees revoked can take the school to court. However, as stated in the court case above, there is legal precedent for law schools to retain the privilege to revoke a degree should they deem it necessary. Chances are if a revoked law student sued the school for the right to their degree, they wouldn't win the case. 
Avoid Misconduct to Keep Your Law Degree
As long as you conduct yourself with good behavior while you're getting your degree and you don't lie on your law school admissions, chances are you'll never have to worry about getting your degree revoked. Honesty and good behavior are important personality traits for lawyers to have, so conduct yourself well to avoid any threats to your degree.