Getting accepted and deciding on what law school to attend is one of the best moments of many law students lives. Between deciding on what school to attend and orientation there can be a lot of moments of excitement, and frustration. One of the biggest potential sources of frustration before the first day of class is figuring out your housing situation. If you're attending a law school outside of your hometown, chances are you will have to search for an apartment. In this article I will discuss common issues and tips for incoming law school students, and cover some of the hurdles I had for housing.
On-campus vs. Off-Campus
Yes, there are on-campus options even for graduate students at most universities. Although they are usually going to be different than your experience in undergrad. My experience in undergrad was that I shared an apartment my first year with three roommates. It didn't feel cramped, but I definitely didn't have much personal space. My last year in undergrad I shared my apartment with five roommates! That sucked, especially since they were all sophomores and they could be really loud.
That being said, most universities offer individual studio apartments to their graduate students. Not only that, usually the entire building of apartments will be solely grad students, so no worrying about having a couple of drunken twenty year olds as neighbors.
There are a few typical issues with on-campus graduate housing however. First off, spaces are limited and they are on a first come first serve basis. You usually have to sign up, and put your money down for a deposit early on in the summer. Second, the on-campus housing options I have seen for grad students are usually overpriced. You can usually get a significantly cheaper apartment off-campus if you're willing to commute a little bit.
What Area Is Your Law School In?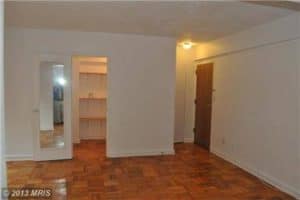 Okay, so if your attending a school in a big city with sky high rent rates like D.C, N.Y.C, San Francisco, etc., than its imperative that you do a decent amount of research before you apply for an apartment. Apartment rates vary so much depending on the location, in some areas it might make sense to pay for a single bedroom apartment for yourself, in others it would be insane to look at anything larger than a small studio.
Different housing markets also have varying levels of competition for apartments. In the D.C area one of the things that made it difficult for me to find my first apartment was that they would become available and then disappear within two – three days. It can be tough to do your due diligence in this kind of environment, especially if you don't live in the area.
Rates Are Jacked Up Closest to Campus
When I decided to attend law school in D.C I had the same idea as pretty much everyone else. I wanted to live as close to the school as possible, so I would have a walking commute under ten minutes. Well guess what George Washington Law is located in Foggy Bottom which is an extremely expensive part of D.C with limited housing options. I could find an apartment close to G.W and pay upwards of $1,700 a month for a tiny studio or I could branch out to Arlington or another area and pay significantly less for a larger apartment.
Once I started researching outside of the university's immediate area I noticed that apartments didn't disappear as quickly and the prices were a couple hundred dollars less. Although the commute was certainly longer (15 – 25 minutes by metro), it was well worth the money I would be saving.
Co-Signer
Another issue that I faced in my housing search was the "co-sign". Any large landlord will require a certain income to rent ratio, I think the usual ratio is 3-1. That means that if the studio apartment you are interested in is $1,400, you have to show the landlord that you are earning at least $4,200 a month. Not to many law students I know are earning that kind of dough, so if you tell the landlord that you are a student they will inform you that they require a "co-signer". A co-signer is someone who the landlord can charge the rent to if you run out of money.
Usually that co-signer will be the law students parents but I understand that in many cases for financial or personal reasons a law students parents can't co-sign the lease. That was the situation I was in when I was searching for an apartment, and I ended up finding a condo owned by a very small landlord that rented to grad students all the time without requiring a co-signer! It's likely that many of you will run into a similar situation, my best advice is to keep looking until you find a landlord that will accept you as a tenant without a co-signer.
Roomies?
Some law students choose to save even more money on housing by having roommates. After living with five roommates in undergrad I absolutely refused to do this again and I drew the line on how much money I wanted to save at roommates. For some people I'm sure it's not a big deal, some might even prefer to have roommates.
In a big city you can definitely save a ton of money having roommates, just remember that the roommate you've got, you're probably going to be stuck with for a year! If it's not someone you already know, you should definitely meet them prior to signing a lease. Another tip for feeling out a potential roommate is to check out their social media accounts. A little stalkerish I guess, but it's a really good way to get a clearer picture of the person your potentially living with for a year.
Consider When to Move
It can be tough for many to decide when exactly they want to move into their apartment. Some grad students move early in the summer several months before orientation. The idea is to get accustomed with the area, and it allows a lot of time to get adjusted. However for those folks like me who are ballin on a budget, re-locating a few months early isn't in the cards.
Don't worry about getting adjusted if you're able to move only a few days before orientation. You will have plenty of time during the course of the semester to learn the area.
Important Things about the Apartment
There are a few things that you're going to absolutely need to know about an apartment before taking the time to check it out or apply.
Does it have a kitchen area?
A studio isn't going to have a full size kitchen but most of them do have an oven, cabinets and a microwave, basically a kitchen area. Remember though, not all studio apartments have these included, so you have to check to make sure you can cook meals at your apartment. It' way too expensive to go out every day for food on a law student budget.
What is the distance to campus by walking/metro?
If you're moving to a big city you already know that parking your car is never free and can be a couple hundred bucks a month. With that being said, most students are going to elect to leave their car back home. You don't want a 45 minute metro ride every day, so check to see how far the apartment is from the law school by metro/walking. When I was searching for an apartment, I scratched off anything that was more than a 25 minute metro ride to campus.
Do they have a student exception to the rent – income ratio?
Most places in the area I was looking at required a rent – income ratio of approximately 3X. Great, well that would not be a big deal if I were an attorney, but I'm an entering 1L law student and technically don't have any income. Well, after each leasing agent notified me of this, I would ask the leasing agent if the apartment complex accepted student loans as income. At this point the leasing agent would put me on hold for a couple of minutes so she could get the answer. Finally I would get my response that only loans designated for housing could be used as income and I would need a co-signer.
I thought this was the stupidest policy I had ever heard, since all of the funds outside of tuition were under my discretion, but whatever. This is simply an important question that you should know the answer to prior to visiting the apartment.
Conclusion
Finding a good place to stay for a fair price in a new area can be a major PITA. It's extremely important though that you do the research, and you make sure that you have found the right place. A lease is definitely not something that you want to shoot from the hip. With some research and maybe a little luck you will find a great place!